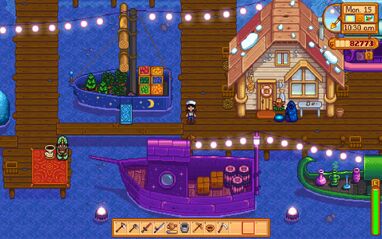 The Night Market is an event that happens every year on the 15th, 16th, and 17th of Winter, this starts at 5 pm each day at the docks. Unlike other events, you can visit the Night Market any time throughout the day however you can only purchase and enter the ships past 5p m.
Ships:
Mermaid Boat - Mermaid Show (If you found the secret code on the secret note you can use it here idk if they're all the same)
Red Ship - Shop, stock and prices change daily. Examples include Iridium Fireplace, Suit of Armor, and every standard seed.
Traveling Ship - Seems to be standard Traveling Cart inventory.
Lupini - Sells Paintings, changes daily.
Shrouded Figure - Teleports home for 250g
Sailboat - Outdoor Decorations, includes all seasonal plants and candy canes, the stock does not change.
Submarine - Deep-sea fishing, costs 1000g, here you can catch Spook Fish, Blobfish, Midnight Squid, some Sea Cucumber, and rare Pearl, which doesn't seem to have any use and the rare Octopus (and a LOT of seaweed)
Community content is available under
CC-BY-SA
unless otherwise noted.