Vincent is a villager living in Stardew Valley. He, along with Jas, are occasionally tutored by Penny. According to his report card, he is very good at sports, but struggles in some other classes, with Penny's note saying he needs to study more. He particularly dislikes some of the dinners his mother cooks and always wants more gummies.
Family
| | |
| --- | --- |
| | (Mother) |
| | |
| --- | --- |
| | (Father) |
| | |
| --- | --- |
| | (Brother) |
Daily Routine
|---Spring---|
Wednesday
| | |
| --- | --- |
| 2:00pm | Leaves library to go stand by river. |
| | |
Gifts
Love
"Wow, thank you so much! This is terrific!" Cranberry Candy, Pink Cake, Grape
Like
"For me? Wow! thanks." Amethyst, Apple, Apricot, Aquamarine, Blue Jazz, Blueberry Tart, Chocolate Cake, Cloth, Coconut, Cookies, Cranberry Sauce, Crocus, Daffodil, Emerald, Glazed Yams, Ice Cream, Maple Syrup, Omelet, Orange, Pizza, Ruby, Salad, Sashimi, Summer Spangle, Sunflower, Sweet Pea, Topaz, Tortilla, Trout Soup, Tulip Pizza
Neutral
"Thanks." Bread, Clam, Coral, Goat Milk, Hops, Malachite, Milk, Rainbow Shell,Oyster
Dislike
"This isn't very fun..." Acorn, Blackberry, Blueberry, Cactus Fruit, Celestine, Cherry Bomb, Cockle, Common Mushroom, Corn, Cranberry, Crystal Fruit, Dandelion, Egg (Chicken and Duck), Eggplant, Fiber, Herring, Holly, Hot Pepper, Jelly(Blackberry), Joja Cola, Mussel, Parsnip, Quartz, Red Mullet, Salmonberry, Snail, Snow Yam, Spice Berry, Spring Onion, Strawberry, Tomato, Wild Honey, Yam,
Hate
"Yuck, what is this?"
All Mayonnaise, Bat Wing, Beer, Cheese, Clay, Coffee, Dwarf Scroll II, Golden Pumpkin, Green Algae, Jelly (Blueberry, Grape), Juice (Tomato), Pale Ale, Pickled(Green Bean, Tomato), Poppy, Red Mushroom, Slime, Stone, Wild Horseradish, Wine, Sugar
Bouquet
You can't date Vincent.
"Umm... I don't think so."
"Is this a joke? I don't get it."
Dialogue
Regular
"Dad's coming back soon! I hope he bring me some toys."
"Dad's not around much... I miss playing with him."
"Hi there, mister/miss!"
"You're not as boring as most grown-ups!"
Festivals
Egg Festival
"When does the egg hunt start!? I'm so excited!!"
Luau
Dance of the Moonlight Jellies
"I wanna see the rare green jelly!"
Festival of Ice
"I saw a big fish down there!"
Stardew Valley Fair
Spirits Eve
"Mother won't let me go in the maze. *sob*"
Secret
The box in his room can be opened by using Strange Bun.
Gallery
References
Unused Content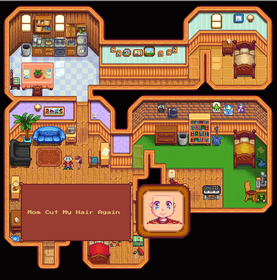 There is a photo of Vincent completely bald and him saying his mom gave him a hair cut. It is still unknown if this is a heart event or not.